Hyperfocus (or manual focus) mode. For anyone that venture into manual focus mode of Minilux, the straightforward approach is to set the manual focus setting to an approximate subject distance.
If you happen to bring the DOF table like below, you could also take your time and choose the range of clarity by using aperture-priority mode plus manual focus.
However, if the far end of subject's DOF is infinite, there is a trick of estimating near end of the DOF without referring to the table. (I first learned about it from Mr. Richard Saylor at this site). For example, referring to the following Minilux's photo, if you select the aperture (say f16) and align the green AF dot to the aperture, the DOF is about infinity to half of the "green P" indicates (3.5 meter/2) of 1.75m. More precisely, referring to the green box of DOF table below, the DOF range is 1.63m.
As another example, should you choose f8 and align AF dot to 8, the green P dot indicate 7m. So the DOF is about 3.5m to infinite. Referring DOF table indicates 3.23m-infinite (the red box).
This easy estimation method has limitations: (1) Doesn't work for f4 and f2.4 and (2) It is not a complete scale of DOF setting like a professional camera and only works if one end is infinite.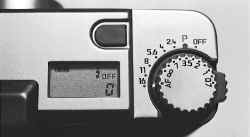 Set value

(m)

Depth of Field (in m) at f/stop
2,4
4
5,6
8
11
16
0.7
0.68-0.72
0.67-0.74

0.66-0.75

0.64-0.78
0.61-0.82
0.58-0.88
(0.85)
0.82-0.88
0.80-0.91
0.78-0.93
0.75-0.97
0.71-1.03
0.68-1.14
1
0.95-1.05
0.93-1.08
0.90-1.12
0.87-1.18
0.82-1.27
0.77-1.44
(1.4)
1.31-1.50
1.26-1.57
1.21-1.66
1.15-1.80
1.07-2.03
0.98-2.51
2
1.82-2.22
1.72-2.38
1.63-2.59
1.51-2.95
1.38-3.69
1.22-5.7
(2.5)
2.21-2.86
2.08-3.14
1.94-3.51
1.78-4.22
1.59-5.93
1.39-13.97
3.5
2.96-4.27
2.72-4.92
2.49-5.92
2.22-8.32
1.93-19.53
1.63-inf
(5)
3.96-6.77
3.53-8.58
3.15-12.21
2.74-30.46
2.31-inf
1.89-inf
7
5.12-11.08
4.42-17.00
3.83-41.66
3.23-inf
2.65-inf
2.11-inf
(13.5)
7.88-47.77
6.32-inf
5.28-inf
4.14-inf
3.22-inf
2.45-inf
inf
18.78-inf
11.78-inf
8.35-inf
5.91-inf
4.2-inf
2.98-inf